As a 2nd time mom,I have learned a thing or two about baby "stuff". With my first wee one,I thought I needed to have it
all
(literally). And between me,mom and some wonderful ladies at my baby shower,I pretty much came home with it
all
. I brought all my goodies home,organized and set everything up
just so
. What I found was that,I kept going back to the same items again and again. Many of those things I thought I had to have,were left untouched and gathering dust in a closet. Needless to say, Goodwill got quite a few baby items from us that year.
When part deux came about,I knew that I wanted to bypass the stuff and only keep around the bare essentials. My life feels so free without all the baby clutter hanging around. Without further adieu:
Here's my list of 5 baby products you shouldn't pass up!
5) Cloth diapers. I have a big post coming up about my love of cloth soon,but in the meantime consider this. Would
you
rather wear nice cotton undies
OR
paper on your bottom? Right? I do prefer something soft,and I think my babies do,too. :)
4) Swing. Now,I definitely think a bouncer can be helpful,but if you have/want to choose,go for the swing! My babies have loved their swing,and luckily,it has lasted for them both.(Did I just jinx myself?) Most of them come with music and toys,which will keep your bigger baby entertained. The little ones just like the movement. One down side: batteries! Depending on how much your baby uses it,it can get costly.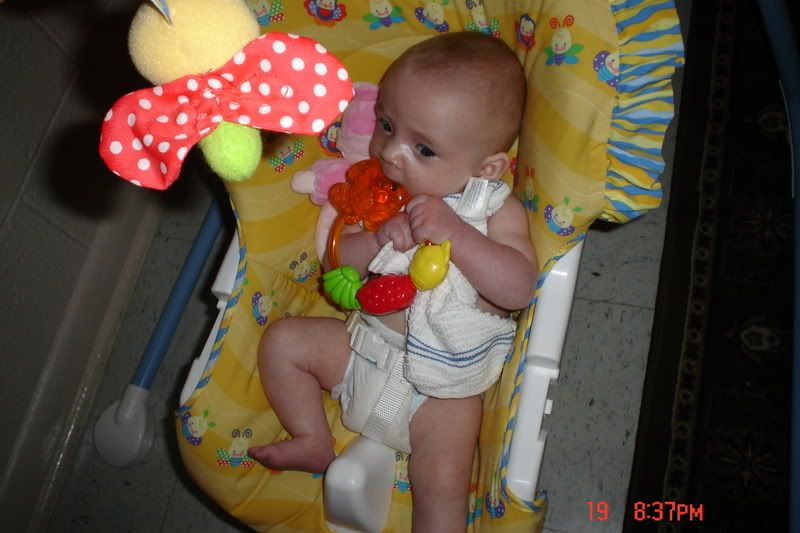 3) Mesh bath chair! I LOVE this thing so much. I don't have a picture of Tillie using hers,but believe me,it is awesome. First,it only cost about 7 bucks,which is considerable less than a big bulky bathtub at baby stores. Second,it fits perfectly in the sink,which is where I like to bathe my babies. Bending down over the bathtub hurts my back,so I prefer to stand at the sink. Third,and best of all,you stick it in the dish drainer when you're done,and it's dry within hours!
2)Kiddopotamus Swaddleme wraps! Oh yes. My friend Amber sent me 3 of these when I was pregnant with Tillie and we still use them every.single.day. Both of my little ones have loved to be swaddled. With Julie,I had to wean her from being swaddled (she was 2 years old and I couldn't find a blanket big enough to use!) They wear well,wash well,you can use them in the carseat for those Winter babies,AND they are breathable! We still have a month or two left even in the smallest size,so they are generously sized.
1) Sling,slings and more slings! I love to wear my baby. :) There is nothing sweeter to me than my babies head resting on my chest in a sling. Babywearing is such a special part of my day. It doesn't matter what type of sling we're using,I am a huge advocate for keeping your baby close to your heart.